Part two in a series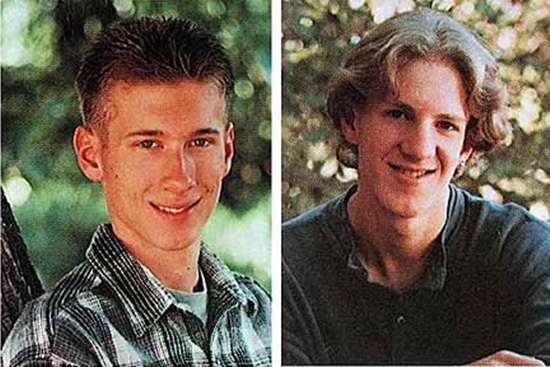 How did it happen? Why did it happen? There's simply no way to measure how many hours have devoted to these questions in the ten years and four days since Eric Harris and Dylan Klebold opened fire at Columbine High School, and while we don't (and never will) have all the answers, we do have some of them. Obviously a good bit of the discussion focuses on the individuals themselves, and other analyses cast a broader net, examining the social factors that shaped the individuals. In a way, the question we're still debating perhaps boils down to nature vs. nurture. Were Harris and Klebold Natural Born Killers? Or are they better understood as by-products of deeper social trends and dynamics?
The answer is probably "All of the above," but we can't simply check C and be on our merry, uncritical way. Checking C isn't the end of the conversation, it's the beginning.
Nurture
In the Winter 2000 issue of 49th Parallel, Nicholas Turse (then a doctoral candidate at Columbia), offered up an intriguing theory: that Harris and Klebold were, in some respect, the young radicals of their generation, the Abbie Hoffman and Mark Rudd of the New Millennium.
While these young boys may have no Port Huron statement, no manifesto, and no coordinated actions (that we know of), they are a legitimate radical faction that may have one-upped the violent Weather Underground and the revolutionary Abbie Hoffman. These boys have truly embraced "revolution for the hell of it," maybe better than Abbie ever did. The randomness of their "non-campaign" may be the ultimate expression of "rage against the machine," ripping into the system, as it were, at its most vulnerable and fundamental level, perhaps more so than Weatherman's bombing of the U.S. Capitol.

While these school-age killers have no Vietnam War to protest, and may be criticized by former hippies for having no cause for which to fight, I contend that the struggle in which these boys are engaged may be as fundamentally important as ending the war in Vietnam (or imperialism, or racism, etc.) was to the hippies, Yippies, Diggers, and Panthers of the bygone era. These children, while they do not articulate the sentiment or may not even realize it, are fighting a system as insidious as the military-industrial complex was to their 1960s counterparts. They are fighting the American educational system and, by extension, the so-called American way of life.
I was invited to contribute a response. In my dissent, I suggested that
Turse seems both right and wrong. His suggestion that "kids killing kids may be the radical protest of our age" is most apt (especially given that our age has produced so little in the way of radical protest otherwise). Harris and Klebold represent a contemporary mode of resistance to the dehumanizing character of the American machine, and it is hard to imagine that thirty years from now we will have forgotten the names of those who burned the word "Columbine" into the collective consciousness.
However, instead of Hoffman and Rudd, it seemed to me that the Columbine killers owed more to
the likes of the Unabomber, Ted Kaczynski, as well as to a larger body of neo-Luddites whose discontent with technological society finds voice in the writings of Kirkpatrick Sale, Sven Birkerts, and Mark Slouka. The public mind hasn't yet put these things together, but I suspect a critical minority will do so eventually. While Harris and Klebold weren't attacking the machine per se, it's hard to argue that the monolithic educational infrastructure that helped spawn them is somehow unrelated to the trajectory of technological society generally.
The intent of the killers aside for a second, contemporary society makes it hard for young rebels to find a clear focus:
For starters, millennial culture deprives would-be rebels of both easy targets and productive means of resistance. In the sixties the enemy was easy enough to identify; seemingly all grievances found a handy focus in the Vietnam war effort or the Civil Rights movement, or some combination of both. Youth resistance found clear symbols of institutional evil against which to rally, and thus radical protest was relatively focused. The social and political structure of the era was given to a more or less one-front conflict, with the enemy over there and the rebels over here. The terms of engagement were clear, a fact that dictated and sanctioned certain forms of resistance and ruled out others.

Would-be radicals at the Millennium face a war being fought on a thousand fronts. There is arguably as much or more social evil for a young radical to oppose, but it is diffuse and sometimes intangible. Being ostracized by your high school's mainstream is perhaps a distressing thing, especially if routine physical harassment by the football team is part of the bargain. When the school ignores the grievance it begins to take an institutional shape. Still, that is a dramatically different thing than seeing friends coming back from Southeast Asia in body bags or watching redneck police turning the dogs on young people who differ from you only in skin color.

Millennial radicals have less obvious targets, and correspondingly their rage finds no moral sanction. The lack of outlets for this anger undoubtedly makes the problem worse—the sixties radical could work these impulses out in a nonviolent fashion that found increasing acknowledgment by the press. Regardless of public reaction, at least they knew someone was listening, a condition that simply did not exist for those unhappy with their lot at Columbine.
Even now, with a decade of hindsight, it's hard for me to tell how right or wrong I was. We're in the midst of such dramatic political, economic and technosocial upheaval that I feel like I'm trying to sketch a tornado from inside it.
Others have questioned the role of political and economic factors in breeding the culture from which Harrises and Klebolds might spring, though. Just last week, David Sirota lamented that our national discourse, such as it is, hasn't "yet matured past gun control and video games."
In a country that ascribes hubristic "exceptionalism" to itself and berates self-analysis as "hating America," we seek absolution via scapegoat, and so we upbraid bogeymen like firearms and Xboxes. Similarly, in a democracy increasingly conducting its politics through red-blue filters and 140-character Twitter updates, we crave Occam's razors — and none are sharper than oversimplified arguments about gun control and video games.

But what about the questions and answers that aren't so simple? For example, isn't violence a predictable byproduct of our economy? When torture victims are waterboarded, they freak out. When a winner-take- all economy tortures society, should we be shocked that a few lunatics go over the edge?

For three decades, we converted our economy into one that enriches the rich and stresses out everyone else. Paychecks dwindled, debts accumulated, health-care bills spiked. We now spend more hours working or seeking work, and fewer hours on parenting and rest — all while schools and mental-health services deteriorate.
Sirota is asking important questions here, questions that take us far past "why did they do it?" The deeper question that we have to consider isn't about the past, it's about the future – what kind of world are we building and what effect would we reasonably expect it to have on those who grow up in it?There are children in our nation right now for whom the verdict is still out. Their futures have not been decided. If Sirota is right, and if I was right in my fifth prophecy for the 21st Century, some are going to be school shooters. What is happening in their homes right this minute that will make that outcome more or less likely, and what can we do to affect that equation?
Nature
On the other hand… Dave Cullen, who is probably the single best source of journalism on Columbine, characterizes Eric Harris as a stone-cold sociopath.
Harris, who conceived the attacks, was more than just troubled. He was, psychologists now say, a cold-blooded, predatory psychopath — a smart, charming liar with "a preposterously grand superiority complex, a revulsion for authority and an excruciating need for control," Cullen writes.

Harris, a senior, read voraciously and got good grades when he tried, pleasing his teachers with dazzling prose — then writing in his journal about killing thousands.

"I referred to him — and I'm dating myself — as the Eddie Haskel of Columbine High School," says Principal Frank DeAngelis, referring to the deceptively polite teen on the 1950s and '60s sitcom Leave it to Beaver. "He was the type of kid who, when he was in front of adults, he'd tell you what you wanted to hear."

When he wasn't, he mixed napalm in the kitchen.
The picture that emerges from ten years of study suggests that perhaps the two killers were necessary elements in a toxic cocktail – a legitimately deranged sociopath in need of a follower and a weak-minded loser willing to be led. Would 4.20.99 have happened had they not found each other? And even given these facts, is there anything that could have been done – thinking back to Sirota's reasoning above – that could have altered the outcome? Maybe not. And frankly, there's no way to know, now or ever.
So what to do with the possibility that social context was irrelevant, that some people are born hard-wired for atrocity, that Harris was a genetically flawed Natural Born Killer.
Even if this is true, not all school shooters are Eric Harris. Disturbed, yes. Broken children all, and perhaps broken for different reasons. We still lack enough cases to pull together anything like a representative profile (and with luck it will stay this way). It seems uncontroversial enough to posit that there's a pool of kids who, depending on the circumstances, might or might not snap. That "snap" might take a number of forms, not all of them harmful to others. But if this hypothesis strikes you as reasonable, it's probably also not a stretch to suggest that greater stress (in all forms, including the political and economic dynamics that Sirota talks about) might nudge the likelihood of the snap in the wrong direction.
In the end, shootings happen and I fear they will continue to happen. If we knew more than we did we could perhaps better understand the nature vs. nurture question as it applies here. Maybe we'd know whether Harris and Klebold were the rule or the exception, whether the Columbine massacre could have been prevented. Hopefully we'll someday get to the point where we can answer these questions in ways that decrease the probability of more Columbines.
What we can say, though, is that a diseased body will exhibit symptoms, and that suppressing the symptoms is no substitute for curing the disease.
________________
Previously: The enduring lessons of Columbine
Next: The power of symbols…
Recommended Reading
Dave Cullen, Columbine
Westword Columbine Reader
Salon.com Columbine coverage