It appears Canada may no longer be a willing partner for American coal companies wishing to export coal to Asia. No economically feasible alternatives to get coal to Pacific Rim markets exist for those companies, either.
News item from October 2016:
BILLINGS, Mont. (AP) — A coal company with mines in Montana and Wyoming said Thursday that it's begun exporting fuel to Asia through a Canadian shipping terminal, after its years-long effort to secure port access in the U.S. Pacific Northwest has come up short.
That's not surprising. The use of coal in America, as S&R explained last year, has stalled — and it's not going to rebound despite President Donald's promise to revive the coal industry. So the owners of big coal mines in Montana and Wyoming are looking to export coal to Asian markets to shore up revenues.
But the states of California, Washington, and Oregon have opposed coal export terminal projects in Oakland, Calif.; Bellingham, Gray's Harbor, and Longview, Wash.; and Port of Morrow, St. Helens, and Coos Bay, Ore. So coal corporations have decided to ship through Canadian ports on its western coast. For now, maybe.
Enter President Donald. First, he slaps a tariff — as much as 24 percent — on Canadian timber destined for the U.S. construction industry. Then he threatens to end NAFTA before negotiating a replacement only to renege on that campaign promise after phone calls with the presidents of Mexico and Canada.
Canada's not happy — especially the premier of British Columbia, Christy Clark.
The westernmost Canadian province sees high volumes of American coal pass through its ports en route to Asia — more than 6 million tons through the Port of Vancouver. In a letter she sent to Prime Minister Justin Trudeau, she wrote:
For many years, a high volume of U.S. thermal coal has been shipped through BC on its way to Asia. It's not good for the environment, but friends and trading partners cooperate. So we haven't pressed the issue with the federal government that regulates the port.

Clearly, the United States is taking a different approach. So, I am writing you today to ban the shipment of thermal coal from BC ports. [emphasis added]
Christy notes the high use of Canadian ports is the direct result of three western American states refusing to allow (as yet) new coal export terminals.
As you may know, over the past five years, every proposed coal export facility on the West Coast of the United States has been rejected or withdrawn, typically as a result of ecological or environmental concerns. . . . Oregon, Washington, and California have all made significant commitments to eliminate the use of coal as a source of electricity for their citizens. In fact, in August 2016, Governor Jerry Brown of California signed Bill 1279 that banned the provision of any state transportation funding for new coal export terminals.
It appears Canada may no longer be a willing partner for American coal companies wishing to export coal to Asia. No economically feasible alternatives to get coal to Pacific Rim markets exist for those companies, either.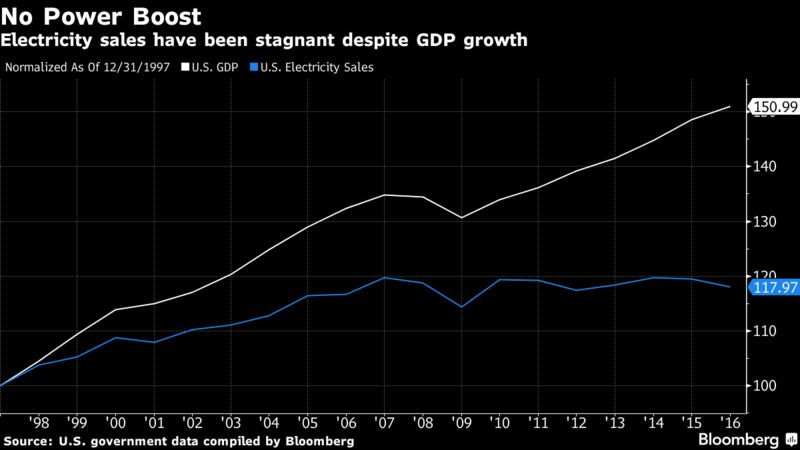 Coal in Wyoming's Powder River Basin is en route to becoming a stranded asset — obsolete and under-performing. U.S. electrical production is now derived only 40 percent from coal — a declining number. Further, U.S. energy consumption, despite a growing population and upward GDP, has flatlined.
From Bloomberg's Mark Chediak:
The lull couldn't have come at a worse time for the industry, which is already struggling with the end of their historic monopolies. Power-sipping appliances, LED lighting and a shift away from heavy industry all have contributed to the slowdown, and that's forcing traditional generators from Duke Energy Corp. to Southern Co. to re-examine how they can make money.

"Efficiency cuts utilities' revenues and not their costs, and this is a big problem," said Amory Lovins, chief scientist and co-founder of the Rocky Mountain Institute, a non-profit clean energy research group based in Colorado. "The whole business model is upside down."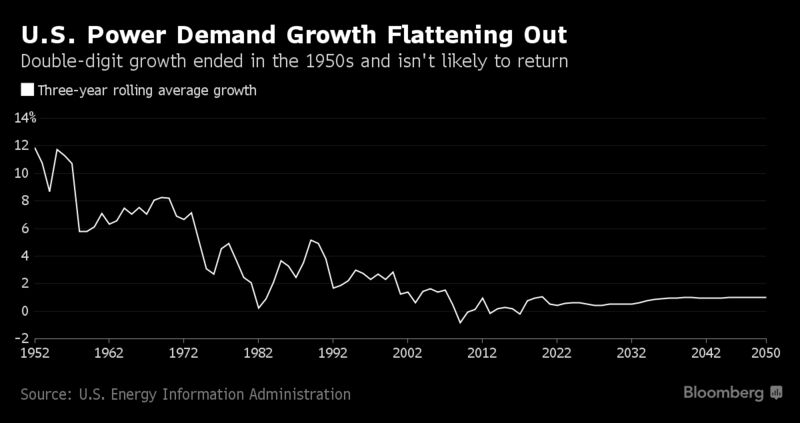 If the Canada closes its west coast ports to American coal, the industry takes another hit after natural gas, efficiencies, and renewables have delivered theirs.
Too many factors undermine President Donald's desire for the coal industry to reclaim its once-dominant position in American industry. Donald and his administration's climate-change-ain't-real and bring-back-coal philosophies won't save the coal industry. As it withers over time, perhaps carbon-dioxide production will decrease, too.