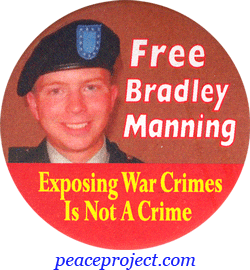 I saw a Free Bradley Manning sticker on a car as I walked my dog this morning and it got me to thinking. Some months back I produced the New Constitution series, which set forth the principles upon a more just and workable American government might be based. The final "deliverable," as we say in the business world, was 20 articles – some barely modified from the original Bill of Rights, some more aggressively revised, and some that are entirely new.
What that sticker and my morning walk have me wondering is if I need to add a 21st amendment protecting whistleblowers. In principle, it seems to me that it should never be a crime to expose criminal or unconstitutional activity.This would apply, as did most everything in TNC, to both governments and private enterprises (read, corporations).
What do you think? Do I need to update the project?