A cyclops and an odyssey reveal that life and coffee turn out to be better when richer and more exotic…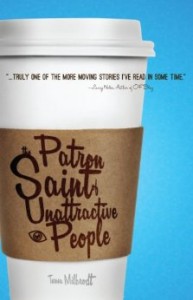 Teresa Milbrodt writes in a genre that a fellow author calls "Midwestern Mythic." Her recent novel,
The Patron Saint of Unattractive People
, certainly fits her genre well. We meet multiple cyclops (maybe cyclopes), go on an odyssey, find a miracle, and even visit a pub with the all too weightily Homeric name The Three-Headed Dog. As in her first book, 
Bearded Women
, Teresa Milbrodt's
 The Patron Saint of Unattractive Women 
explores the discovery of what it means to be "different" – and to accept being different as normal.
The unnamed protagonist, a woman of 37 who is a cyclops by birth and a coffee barista by – well, maybe by birth, too. An only child, she lives with her difficult parents – her father is an especially adamant sort who has largely lost his sight to glaucoma and yet is sure he sees things clearly (yeah, he's a sort of an anti-Tiresias) and her mother is – I guess you wouldn't be wrong to call her a hybrid of Penelope, Odysseus's wife, and Clytemnestra, Agamemnon's spouse. The protagonist, like any good cyclops, spends a lot of her time thinking she'd just like to be left alone. Continue reading →