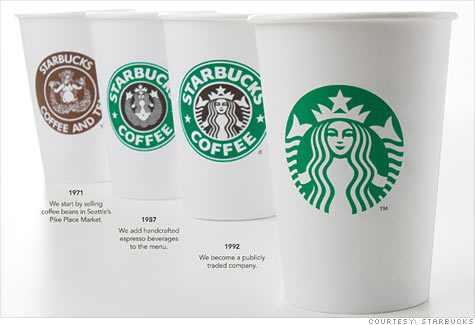 There are three problems facing America today that could result in its decline and eventual collapse. The first, obviously, is an over-reliance on fossil fuels, which leads to a host of problems, from over-consumption to climate change to the funding of terrorist states like Saudi Arabia. The second is the current trend toward religion, spirituality and superstition, which similarly has many pernicious effects, the most important of which is a systematic rejection of facts and scientific principles. Gibbons listed this as one of the three causes for the decline and fall of the Roman Empire. And the third problem, and perhaps most serious, is the endless time taken up by idiots in the line in front of me at Starbuck's who apparently can't figure out how to order, what to order, or how to pay. According to my calculations, time wasted in line behind idiots at Starbuck's is costing our country 6.3% of our national productivity.
The first two of these problems are relatively simple to solve. The line of idiots at Starbuck's, however, will challenge not only our creativity and collective will, but our ability to come together in non-partisan ways to effect change.
The over-reliance on fossil fuels could be resolved immediately by simply raising taxes. This would reduce demand for carbon fuels, defunding states like Saudi Arabia, Iran and Venezuela, and increase demand for fuel efficient vehicles. Despite the fact that to some extent gasoline is an inelastic good in the short to medium term (e.g., for commuting,) mathematical modeling suggests that a one dollar per gallon tax would in three years transform our domestic vehicle fleet to something more akin to Europe's, and a two dollar tax would put us at world leading levels of fuel efficiency in less than five. This would slow climate change and promote international stability, although it would be politically difficult because it would come at some cost to the top 10% of income earners in the U.S. who would need to pay their maids more to subsidize their commutes.
A similar solution could be employed to deal with the rise of anti-secularism, although it would be slightly more complex. In addition to revoking the tax exempt status of religious organizations, we would need to remove contributions to religious organizations as charitable deductions under the tax code. Of course, some people might well continue supporting these organizations without the wealth transfer loophole created by the tax code, as is their right. And admittedly, as super-PACs have shown, many individuals would find workarounds to continue funding churches, synagogues and mosques under the guise of social clubs, charities, etc. Nonetheless, changing the tax code would be sufficiently effective to at least slow the trend until the inevitable historical correction takes place.
Addressing these two in this manner will also close the deficit.
Idiots in the line at Starbuck's however, is a much thornier problem. There are a finite number of oil companies and churches, which makes regulation straightforward.  But therea are an apparently infinite number of idiots who like silly drinks and they are scattered across the country, which makes it difficult. I propose a three pronged approach.
First, pass laws forbidding Starbuck's (or anyone else for that matter) from selling drinks which are effectively caffeinated milkshakes. There is no sane argument for marijuana being illegal and frappaccinos being legal. If frappuccinos aren't munchie food, what are they? Frappaccinos don't even make sense. This morning I stood behind a young man who ordered a frappaccino with caramel and whipped cream but with Splenda instead of sugar. Let's run the math on that one—plus 500 cal for the whipped cream, plus 500 for the caramel, minus 100 for that missing teaspoon of sugar equals 0. No wonder we have an obesity epidemic in this country. It's because people can't add and subtract. (Oh well, might as well blame it on Obama. That's what we get, Mr. President, because your pals in the teachers' union have not taught our children basic arithmetic. And while I am at it, we also have a drought in Indiana, and it's all your fault.)
Now I am sure that the clever marketers at Starbuck's would find a way around it: Coffee and Caramel!! Now sold separately!! And I am equally sure that idiots are idiots, and if Starbuck's only sold one offering,  they would still find a way to piss away my time. "Hmmmm, this white cup doesn't look as well-proportioned to me as that white cup. Do you mind changing cups for me? In fact, could you bring out every white cup in the store so I can see which fits my lips best? Do these come with a little paper umbrella?" At best, a supply side solution is a partial one.
Secondly, we need to make fully automatic assault weapons legal in coffee shops.  Obviously, the best way to take care of this problem is just to get rid of the idiots in the first place. That not only speeds up the line, but it improves the gene pool and enhances the outlook for survival of the human species.Sure, you could shoot the idiot in line in front of you with a pistol, but that is much harder than it looks.
A friend of mine once got into a gunfight in Atlanta (long story, but his name was Earl so you know this story is true). He and his friends were on the porch shooting at two guys in a car at the curb, maybe 30 feet. They emptied their weapons, no one was hurt, the car sped away, and later they went looking for bullet holes. They found one, in the side of a car two houses down. That stuff where two hombres stand at opposite ends of a long street and shoot each other is for the movies. In real life, you'd be lucky to hit your palm if you held it in front of the barrel. An assault weapon on the other hand, would ensure I wouldn't miss and since these people often bring children and friends, would be more efficient, getting rid of more idiots faster and with less wastage. We could call it the Stand your Grounds law.
Finally, we need to put an end the death penalty.  Obviously, I would only shoot those who deserve it, or who are standing too close to those who deserve it: "You stood in line for thirty minutes reading the board, waited until you got your drink before looking for your money, and now you are digging in the bottom of your purse for pennies? Sayonara, idiot-san."
That seems reasonable enough to me, but it might not to everyone. For example, a jury in Alabama might decide that ordering whipped cream and caramel on a drink is not sufficient cause for justifiable homicide. After all, looking at them, it is perfectly possible they put whipped cream and caramel on their coffee. And on their fried chicken. And on their turnip greens. They probably put whipped cream and caramel on their whipped cream and caramel. Best to take the death penalty option off the table so I won't have to worry about it.
In sum, we face a number of problems today that are too big for any one of us to tackle on his or her own. Let's step up to the challenge.