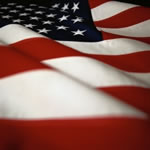 When the national anthem is sung, I place my hand over my heart. I didn't always. But I'm old enough now to appreciate, to be grateful for, what being an American citizen has afforded me.
If I wish, I can own a firearm. I can assemble peaceably with others. I can criticize the government. I can practice a religion — or not — without governmental dictation. The Constitution protects me from unreasonable search and seizure (Patriot Act not withstanding). When I was a journalist, the government could not abridge the freedom of my press. I can own property. I can depend on contracts being enforced. I have more constitutionally guaranteed rights as an American than any citizen of any other country.
Yes, I have duties as well. I must pay taxes for the general welfare and the common defense. I must be willing (and able) to stand in judgment of a citizen charged with a crime by the government. I ought to be sufficiently knowledgeable and intelligent to vote wisely.
I love my country. Most of us do. But I no longer have faith that my elected leaders love it as much as they love power and the ability to demean those they oppose. I don't like, respect, or trust my elected leaders any more, and their public personae and political actions show they don't give a damn about me in any way beyond my ability to cast a vote.
Continue reading →